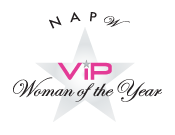 Latest Press Release - Garden City, NY - June 28, 2013
The National Association of Professional Women (NAPW) inducts leadership author Dr. Mary Lou Decosterd into their VIP Membership as Woman of the Year - State of Pennsylvania for her accomplishments in leadership development.
NAPW has more than 470,000 members representing business large and small and from a broad array of professional disciplines. These "VIP Women of the Year" were selected in recognition of the strides they have made in their respective industries, their exemplary leadership, their professional achievements, and for displaying the highest level of support of NAPW's commitment to networking and community involvement. These outstanding women are reflective of the dynamic and highly inclusive membership in what is the fastest growing professional women's association in the nation.
Dr. Mary Lou Decosterd was selected for both her authorship and practice. In particular, the release of her newest leadership book, "How Women Are Transforming Leadership: Four Key Traits Powering Success" and her philanthropic work with children in need through her children's book, "Magical Max Makes Friends" were noted. Dr. Decosterd is founder and Managing Executive of The Lead Life Institute, offering state-of-the-art executive coaching, team development, and related training design and delivery to a broad range of organizations and businesses.
Prior Press Releases:
September 25, 2012 - Author Reveals What's Inside the New Book About President Barack Obama