About the Book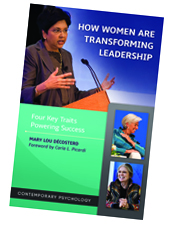 Distinguished leadership author Dr. Mary Lou Décosterd provides an intriguing assessment of men, women and the future of leadership. In particular, Décosterd details women's pivotal role in continuing to shape how we lead in order to best meet the diverse and intricate challenges of our day.
General Ann Dunwoody, first ever female four-star General, United States Army, Retired has this to say about the book: "One day we'll quit being surprised to learn that women possess leadership qualities that can be critical to every business enterprise. Dr. Décosterd spells it out in detail and with conviction. Her findings are substantive and her conclusions provide clarity for all walks of leadership, especially for the business world and the boardroom."
This thought provoking work examines the traits and stories of influential women throughout history to present day in order to make the case that women continue to evolve leadership practices for the better. Dr. Décosterd identifies four key traits that enable women to excel in even the most challenging of leadership roles.
Highlights within How Women Are Transforming Leadership
• Reveals the four feminine-based skills that promote success
• Features tools and techniques for developing leadership acumen
• Studies important women across history, industries, nationalities, and ethnicities
• Includes interviews, quotes, illustrative vignettes and speaking excerpts that show leadership skills in action
About the Author
Author Mary Lou Décosterd, is founder and managing executive of the Lead Life Institute, a leadership consultancy firm. Her other published works include Right Brain Left Brain Leadership: Shifting Style for Maximum Impact, Right Brain Left Brain President: Barack Obama's Uncommon Leadership Ability and How We Can Each Develop It and the children's book Magical Max Makes Friends.
To purchase individual copies or learn more about the book visit the publisher's site here.
To request a review copy or an interview with the author, click here.